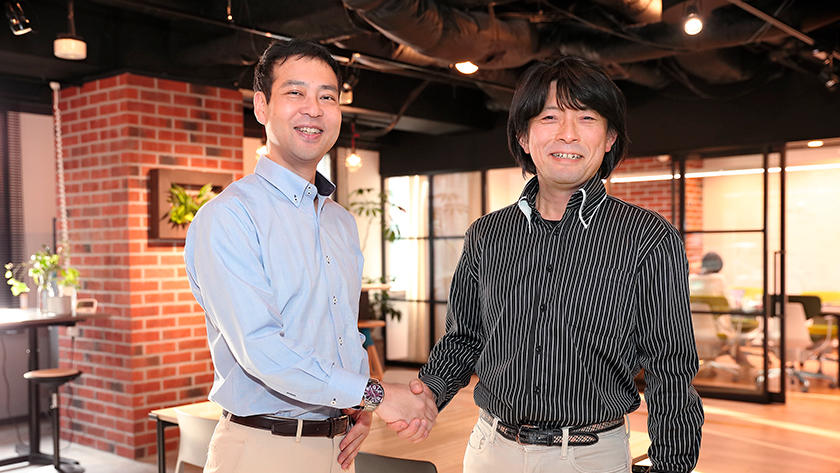 "Near-future designs" Drives Innovation
New company spawns creativity via organizational structure, personnel and atmosphere
At the new business announcement on April 25, 2018, "Would we need traffic signals if we have a fully automated traffic network?" asks Masaki Suwa, the CEO / Director of OMRON SINIC X Corporation. Such bold and ambitious words firmly reflect the company's stance on creativity-driven R&D. Today, we dig into the birth of OMRON SINIC X and what's happening behind the scenes.
A business allowing people to enjoy creativity
Innovation tends to take current procedures and technology in a different direction from productivity and technological advancement, at times improving or disrupting what we have. However, risk is inevitable when finding the path to resolve social issues.
A significant part of OMRON's history is innovation. Online cash dispensers, unmanned train stations, automatic traffic light control with sensors and other inventions all spawned from a single idea - "let machines do what they do best, and leave creativity for people to enjoy". And OMRON has also evolved from a company manufacturing electronic parts into a company creating "the new" through imagination and materialization of unattended social needs.
Birth of a new company designing the ideal future
OMRON has grown to become a global firm and now faces constant challenges in creating innovation.
Taking up this challenge, OMRON founded OMRON SINIC X Corporation in April 2018 as a sequel to the establishment of the Innovation Exploring Initiative Headquarters in March - a significant part of OMRON's reformation project.
The Innovation Exploring Initiative Headquarters drives technological evolution, and OMRON SINIC X creates drastic innovation. The mission of OMRON SINIC X is to create a model of a world without social issues, which involves designing essential technologies, architecture, and concept implementation independently of OMRON's decision making process.
Although it may sound ambiguous, the path is clearly based on OMRON's SINIC theory - future vision of technological, scientific, and social interrelation - the underlying foundation of all research and development activities at OMRON.
Designing the future with "backcasting"
The SINIC theory
The SINIC theory defines two directions towards social advancement. "Forecasting" is one direction where new scientific discoveries give birth to new technology which impacts and changes society. "Backcasting" is the other direction where social requirements trigger new technological development and scientific discoveries.
OMRON SINIC X will utilize the backcasting approach and work closely with the Innovation Exploring Initiative Headquarters which utilizes the forecasting approach to resolve a variety of social issues.
Diversity to change the future
In an effort to conceive the "seeds of innovation", the company openly invites talent from external sources such as universities, research institutes, and other businesses. In the initial stages, the focus will be placed on sensor technology and humans; the future concept will revolve around AI, IoT, and robotics. Suwa mentioned in a firm tone, "We now have the people who can change how we live in the next 5 to 10 years".
Diversity at OMRON SINIC X
From the top left, clockwise: Satoshi Kurihara, Yoshitaka Ushiku, Atsushi Hashimoto,
Yoshihisa Ijiri, Mitsuharu Konishi
Technological Advisor Kurihara also passionately stated, "OMRON SINIC X provides young engineers in their 20's and 30's a place where they can focus on research and stimulate their minds. We welcome you to join us on our journey to innovation".
Unique office space inspires new ideas
The new office is located in the Kadokawa Hongo Building in Bunkyo Ward, near the University of Tokyo, the University of Electro-Communications, and Tokyo Institute of Technology. There are also numerous university research laboratories and start-up businesses with unique technologies - a well-suited environment for interaction among researchers.
The office was designed to allow the team to interact with one another and trigger discussions that bring about new ideas. The "active" space provides a relaxing atmosphere, whereas the "tranquil" space allows for undivided concentration on research. The office also includes areas dedicated to future interns making it an ideal innovation incubator.
"tranquil" space (top) and "active" space (bottom)
Designing the future to change the world
Let's take a moment to reflect on Suwa's question, "Would we need traffic signals if we have a fully automated traffic network?"
The "ideal future" may suggest that fully-automated traffic signals with sensors and traffic control systems (OMRON inventions) will be obsolete. The findings at OMRON SINIC X may contradict and destroy OMRON's 4 core business domains - factory automation, healthcare, mobility, and energy management. Regardless of the outcome, OMRON SINIC X will fully exercise its freedom to research future concepts.
In addition to numeric figures and goals, creating new businesses and technology for growth after 2020 is one of the declarations in VG2.0, OMRON's mid-term corporate strategy for 2020. High expectations remain for the new company crowned with its name derived from OMRON's SINIC theory.

「The future of traffic in 2025」
Satoshi Kurihara Joins NTT Basic Research Laboratories in 1992, and thereafter engages in AI research and development at universities and other institutes. Professor of Undergraduate and Graduate School of Science and Engineering at Keio University, Specially Appointed Professor of Artificial Intelligence eXploration Research Center at The University of Electro-Communications, and Visiting Researcher at Dwango Artificial Intelligence Laboratory as of April 2018 Twitter:https://twitter.com/skuri_san
Masaki Suwa Joins OMRON in 1997. Engages in signal processing and machine learning algorithm, measurement principles and algorithm research for 3D images. CEO / President of OMRON SINIC X Corporation as of April 2018. Twitter:https://twitter.com/masa_suwa/