Saving people around the globe from lifestyle disease
Promoting self-help via government and local institutions
Collaborating with the Philippine government to promote local health programs
"Did you know the fact that the leading cause of death in the Philippines, is heart disease?" asked Janis Ian, OMRON Healthcare Philippines Office. "The Philippines has the 12th largest population in the world with approximately 101 million people. And surprisingly, a whopping 28% or 19 million Philipino adults have high blood pressure. But only 3% of them have a blood pressure monitor. That's the reality."

Due to the westernization of dietary lifestyle, people with lifestyle diseases are rapidly increasing in the Philippines. However, in order to improve one's physical condition, it becomes essential to understand oneself first.
"In the Philippines, the people had low awareness of lifestyle diseases since information on risks and prevention was not widely available to the public. In addition, blood pressure couldn't be measured on a frequent basis since households usually don't have a blood pressure monitor because it is expensive to own. Statistically, 74% of Filipino belong to the lower class and 21% are poor." Janis reflected back on 2014.
To support such social issues in the Philippines, Janis's team established a partnership with the government and launched "barangay health program" for local communities in 2014. The word barangay means village, district, or ward. In the Philippines, the people belong to a barangay and receive medical and dental checkups, vaccinations and etc. at the barangay health facility instead of the hospital.
Janis's team provided free blood pressure and blood glucose tests at 300 barangay health facilities over a three month period with the cooperation of the government. There, the team actively spread the word on the importance of health management to health care workers and local communities through digital blood pressure monitors which anyone can easily use without special knowledge or skill.
Establishing partnership with the government to protect people's health
Five months after the launch of this program, the Philippine government recognized the importance of personal health management. The Ministry of Health set up a project to provide 126,000 digital blood pressure monitors at 44,000 barangay health care facilities. This was exactly what Janis wanted for the people. "It was a major turning point for the Philippines", Janis says.
Despite tight deadlines and requirements set forth by the Philippine government, the team achieved a 35% penetration rate on the blood pressure monitor in a single year. The Vietnam factory of OMRON Healthcare made this possible by adjusting their manufacturing processes, and accomplished the task in less than half the conventional time period required.
Janis spoke with enthusiasm, "Anything is possible. Our dedication to the barangay health project rose out of our hopes to make a significant contribution to society.
We are happy and proud to help people understand the importance and promotion of personal health, even in the most remote locations and among the poorest in the country.
And more importantly, we are proud of ourselves and our profound teamwork which overcame national and organizational borders and challenges to fulfill social needs.
Solving issues in India via community
Life-threatening lifestyle diseases are now spreading beyond developed countries. As with the westernized diet in the Philippines, diseases such as hypertension, obesity, and diabetes are rapidly increasing in India, a country experiencing significant IT-driven economic growth and consumer spending.
The disparity of wealth in India is extreme. Very few people have health and medical equipment at home due to a lack of health awareness especially in regions outside the cities.
Also, there is currently a major shortage of medical institutions. And to make situations worse, people have to visit the hospital and pay out of their own pockets for a checkup and blood pressure reading.
Many hospitals in India still use traditional mercury-based blood pressure monitors that are banned in many countries. Due to its highly toxic nature, handling requires extensive knowledge and skill as well as extreme caution. Therefore, they can only be handled by doctors or qualified nurses which adds to its inconvenience.
In hopes of improving the current situation, OMRON Healthcare India holds seminars led by medical professionals and educates doctors on digital blood pressure monitors, its proper usage. It also provides advice on providing comprehensive details to help people understand how regular blood pressure monitoring at home helps prevent serious illnesses.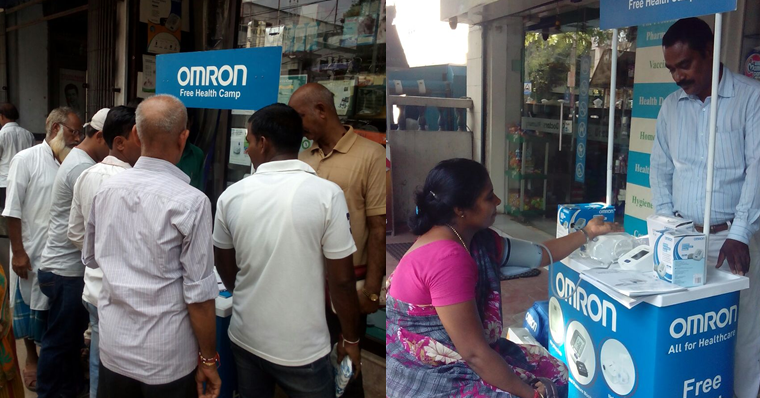 Healthcare events
Hospitals which have adopted digital blood pressure monitors saw drastic improvements in patient turnover. Since anyone can easily use the device without special knowledge or skills, nurses can measure blood pressure while their patients wait, thus reducing the time patients spend at the hospital. As a result, the solution is expected to resolve the severe lack of medical institutions experienced in India.
OMRON Healthcare India offers free blood pressure and BMI (obesity) measurement sessions at parks or shopping malls in major cities and sometimes at a corporate office per request as a vehicle to spread the knowledge and importance of home healthcare, lifestyle illness prevention and remedy.
In areas where medical institutions are scarce, it is fairly common to see hundreds of people waiting in line to take advantage of the opportunity to learn about their own health. OMRON stays close to local communities with the people's health and lives in mind.
The desire "to live a long and healthy life" has always resided in people throughout history regardless of location. The most important element in making that a reality is to objectively understand one's own physical conditions on a daily basis and make the best choices in the interest of maintaining or improving health. OMRON's quest for optimal health continues.