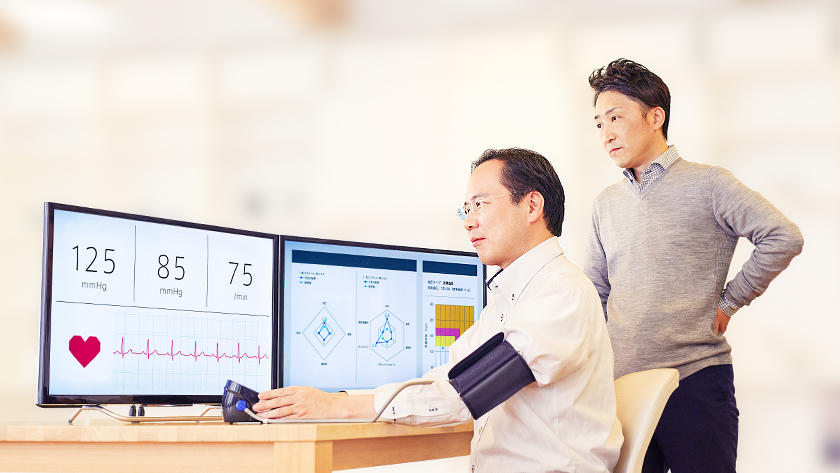 Preventing Major Cardiovascular Illnesses with Self-monitoring
The next step in blood pressure monitors and electrocardiograms
According to the WHO, more people die annually from cardiovascular diseases (CVD) than from any other cause. One of the primary cause of CVD is high blood pressure - when left untreated, the damage that high blood pressure does to your circulatory system is one of the primary contributing causes of heart attack, stroke and other health problems.
Despite grim global statistics, recent studies highlighted that high-income countries such as the United States, Canada, South Korea and Japan are showing a sharp decline in blood pressure among their populations in recent decades, while low- and middle-income countries have seen numbers spike--especially in South Asia and Africa.
Although there are different variables leading to the decline in blood pressure in high-income countries, Takehiro Hamaguchi, the Advanced Product Development Leader of OMRON's Technology Development Division commented, "As a result of focusing our efforts on promoting blood pressure monitors for home use over the past 40 years, we achieved a distribution of over 200 million home blood pressure monitors worldwide in 2016 alone. I believe that the increase in the number of health-conscious consumers and the widespread use of home blood pressure monitors could be one of the most significant factor leading to the decline in blood pressure, aside from the advancement in hypotensive medication. In that aspect, I'm glad to see that OMRON's home blood pressure monitor is paving the way to a healthier lifestyle."
Despite promising trends and improvements in monitoring health and blood pressure, Hamaguchi mentioned, "It is still too early to declare victory. Blood pressure is on a downward trend, yet heart attack and stroke rates have not improved. Consistent blood pressure monitoring is important, but we also have to keep developing methods to achieve optimum health and better quality of life."
Self-monitoring your blood pressure and heart activity on command
~Importance of frequent checks for early detection~
Most individuals who currently do not experience medical abnormalities have their heart activity evaluated once a year when they visit their doctor for an annual checkup. Should patients need to monitor their heart activity, hospitals lend out portable electrocardiograms to allow patients to measure their heart activity at home.
This may sound like the commonly accepted protocol, but here is the problem: abnormalities such as atrial fibrillation go undetected if patients do not experience symptoms during the annual checkup or while they have access to the portable devices.
Approximately 50% of patients with atrial fibrillation are known to have high blood pressure, and less frequent checks can lead to a greater risk of overlooking atrial fibrillation which is one of the main factors contributing to a stroke. Needless to say, the ability to monitor your blood pressure and heart activity on command becomes critical.
Hamaguchi states, "Strokes often leave patients with serious prognostic symptoms. But strokes caused by atrial fibrillation can be especially serious. One of the best things we can do to maximize QoL is to minimize the onset of atrial fibrillation."
One of OMRON's primary mission is to "proactively reduce and prevent cardio and celebrovascular onset" in hopes of maximizing QoL (quality of life) by optimizing one's lifespan and healthspan.
In order to fulfill our mission, we are currently collaborating with a U.S. firm to develop a blood pressure monitor equipped with an electrocardiogram (ECG). The key benefit of this device is that patients with high blood pressure can measure both blood pressure and heart activity simultaneously and easily, increasing the probability of detecting atrial fibrillation.
Further development is underway. In addition to the dual-feature monitoring device, OMRON has future plans to integrate the electrocardiogram into the wearable blood pressure monitor (currently under development) that will provide patients the ability to measure their blood pressure and heart activity at any given moment.
the wearable blood pressure monitor (Image is for illustration purposes only)
Leading the collaboration project
Such large-scale technology projects require multiple technologies and components to be designed and integrated into a tailored solution. It contains a lot of uncertainty as new information emerges throughout the project lifecycle and involves many diverse groups. In order to manage the project successfully, a strong and reliable technical lead is essential.
Hideaki Yoshida, having achieved success at various technological strategic planning departments, was appointed the leader of the project, despite being away from developing blood pressure monitors since he developed the cuff type monitor in 2009. So, why did it have to be Yoshida?
Hamaguchi explained, "Yoshida has extensive experience working abroad and possesses so much more than just English fluency and communication skills. In order for this project to be successful, we needed a Japanese person who can lead cross-border projects and build a close working relationship with American firms. Yoshida was the perfect person for this project."
As challenging as this project is to Yoshida, he has overcome various obstacles in designing and structuring the device, measurement method, and its technological features. With the project currently in its clinical trial phase, Yoshida explained, "The blood pressure monitor puts pressure on the arteries and takes pulse readings while the electrocardiogram measures heart activity. We are expecting the features to work independently without interfering with one another, and that is what we are testing now. With this device, patients with atrial fibrillation and high blood pressure will be able to understand the correlation between blood pressure and heart activity and make better decisions. Our goal is to launch this product into the market some time in 2018."
To a future without cerebral and cardiac events
Hamaguchi and Yoshida's mission is to proactively prevent circulatory diseases, particularly the elimination cerebral and cardiac events. The development of wearable blood pressure monitors and blood pressure monitors equipped with an electrocardiogram is only the first step towards their mission.
The team is already in the phase of brainstorming the next step - developing multi-functional devices specializing in disease prevention and early detection as well as advance warning features utilizing artificial intelligence and big data analytics.

An exciting future awaits you here, at OMRON Healthcare.
Related Contents