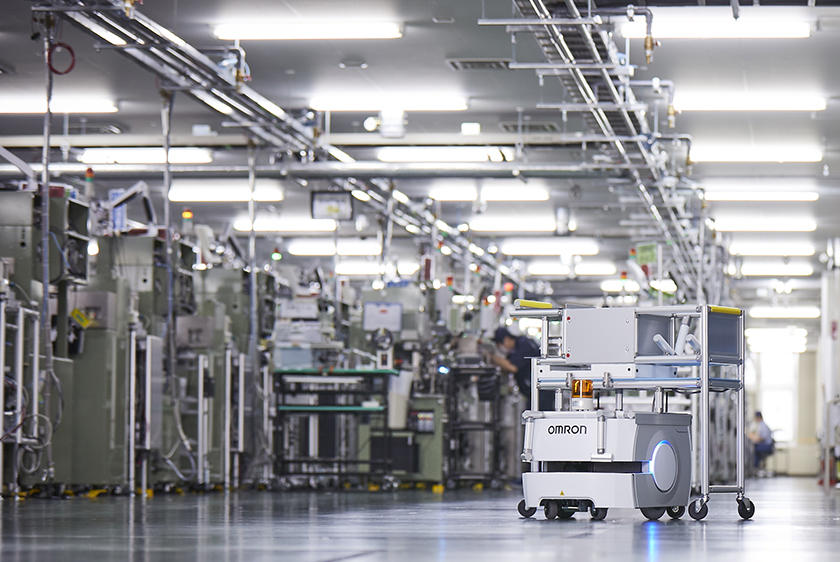 The evolution of electronics in society is supported by electronic components
Murata Manufacturing is on the cutting edge of manufacturing for these components. Blending information technology with factory automation, the smart factory concept.
Smartphones are an indispensable part of daily life. While the core concept of a phone is to communicate, smartphones nowadays are used for many additional jobs such as controlling lighting, controlling air conditioners and monitoring your home while you are away through security cameras. The role smartphones play in our lives is ever expanding.
With our migration towards a society where electronics play an increasingly prominent role, demand for electronic components is dramatically increasing. For example, laminated ceramic capacitors are a vital component in most electronic equipment. A single, high-spec, smartphone can contain up to 800 capacitors. In the push towards miniaturization, capacitors with dimensions of 0.25mm by 0.125mm are now being produced.
Production facilities are now making electronic components which are as small as a grain of sand.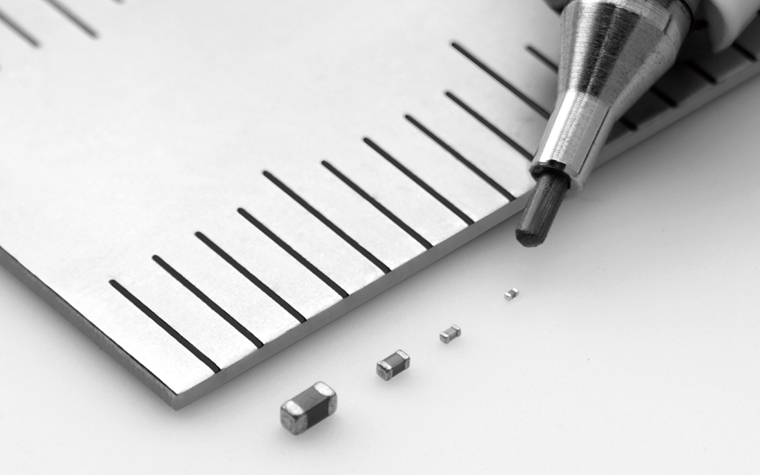 World's smallest laminated ceramic capacitor, 0201 (0.25 × 0.125 mm).
Murata Manufacturing co., Ltd has the largest share of the world's laminated ceramic capacitor market. The company, one of the most prolific in the world of electronics component manufacturing, represents Japan in this market.
The foundation of Murata Manufacturing's facilities' ability to reliably supply high-quality products is their continued focus on innovative production strategies. The continued miniaturization of electronic components presents major difficulties in their manufacture. To produce ceramic capacitors, Murata Manufacturing must stack hundreds of micron thin ceramic sheets and then cut and fire them to produce components the size of a grain of sand. Murata Manufacturing is on path to fully automate this process to ensure high speed and high precision during production.
For the purpose of writing this article, we visited one of Murata Manufacturing's production sites to observe firsthand the role OMRON's automatic transportation mobile robot (mobile robot) plays in the facility. We interviewed Mr. Hironao Chikusa, the general manager of the Robotic Utilization Promotion Group from the Production Process Development Section of Murata Manufacturing's Production Division, on the subject of challenges and solutions in a production environment.
Mr. Chikusa is an expert in the field of production technology, where he has worked for more than 30 years. He has been a general manager at the Robotics Utilization Promotion Office since its launch about a year and a half ago.
According to Mr. Chikusa, the most pressing issue at present is that of "inter-process transport". Murata Manufacturing have worked hard to optimize their production processes through automation. Now however, they have come to realize that the entire process must be viewed as one large device and this has given birth to the concept of a smart factory. The key to the success of this smart factory concept is to integrate a "nervous system" into the facility. This technology will integrate production data, IT systems, and factory automation systems, which can be thought of as the "muscle system" of the factory, to further enhance process optimization.
In its capacity to carry goods around the factory, OMRON's mobile robot was chosen to play a part in the "muscle system" of the factory.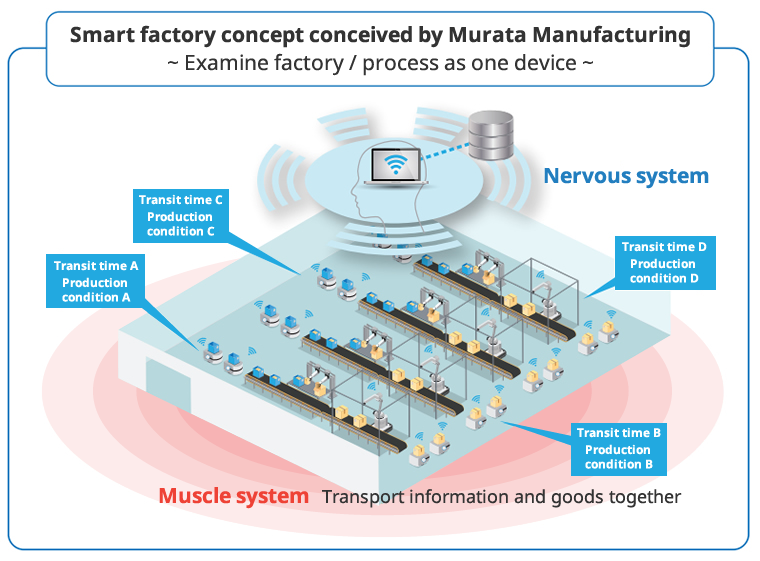 Produced by OMRON, based on a presentation by Murata Manufacturing.
Beyond high precision and high speed. A production line where people and machines coexist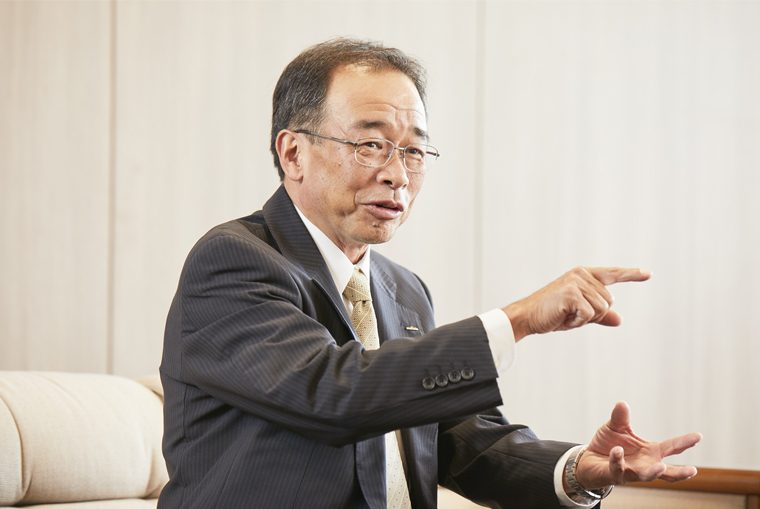 Mr. Hironao Chikusa, the general manager of the Robotic Utilization Promotion Group from the Production Process Development Section of Murata Manufacturing's Production Division
"Our production site has narrow aisles so the robot has to be compact and move in a way that lets it avoid people, those are a couple of our evaluation criteria," said Chikusa. OMRON's mobile robot uses its built-in laser scanner to detect people and obstacles and then derives an optimal route to allow it to get to its destination and deliver its cargo without a collision. This ability to automatically avoid accidents allows the people working in the facility to concentrate on their jobs without worrying about the robot.
Removing humans from the internal transportation process has greatly improved the flow of goods around the facility. Before, people had been waiting until a large volume of products had built up before transporting them. The mobile robot is happy to continually transport even small quantities of goods around the facility. As goods do not pile up now, the space required for storage in the facility has been reduced. While it was more efficient for a human to transport a large number of goods at one time, the opposite turned out to be true for a robot.
Additionally, it is common for the layout of production lines to change frequently. In the case of Murata Manufacturing this could be two to three times a year. With the aid of its onboard laser scanner and mapping technology OMRON's mobile robot can adapt to new layouts by running the new route only once. In addition, the usual magnetic tape which must be laid to guide conventional automatic vehicles is unnecessary.
"In addition to changing the layout, often we also update or change the production methods being used on the lines. To teach the robot the new route we only have to run it once through the area or we can do it using the "MobilePlanner" software. It really is convenient."
OMRON's mobile robot, which Mr. Chikusa is evaluating, is popular among the workers at the site. "I guess it's because the people are working with the robots in the same space that they have become attached to them. Some staff have even started naming them and treating them like pets. It is great that people are not treating the machines as a nuisance and are actively using them to assist with their work," said Mr. Chikusa enthusiastically.
People are indispensable to maintain the good name of "Made in Japan" manufacturing.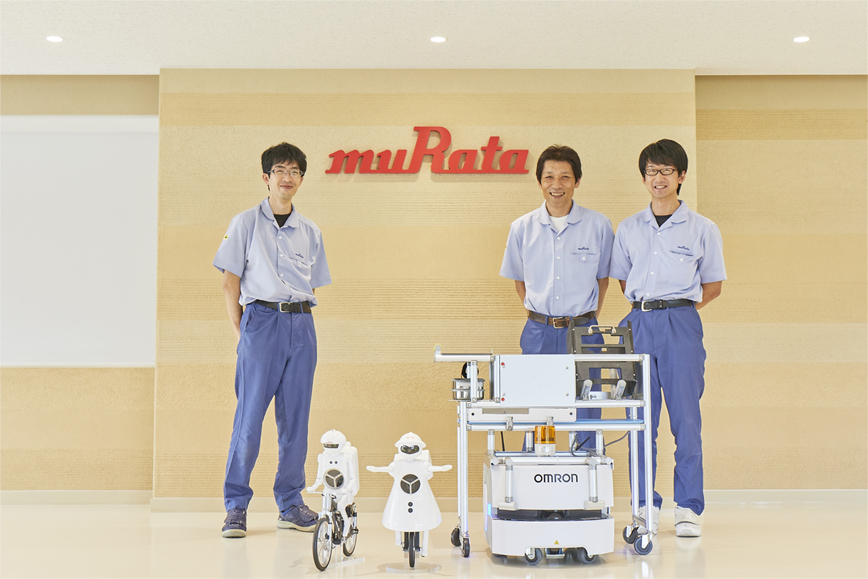 Team members providing support at a production site.
We have targeted improved development and domestic manufacturing capabilities as a way to maintain competitiveness while dealing with an unprecedented decline in labor population by expanding investment in areas such as robotics and electronic vehicles.
Mr. Chikusa says, "From now on, people should be responsible for quality. It is essential to use all five senses to ensure the end quality of a product. Japan's manufacturing industry is known worldwide for its precision and accuracy. Due to the continued reduction in the labor force it is essential to use machines where possible in the manufacturing process to ensure humans are available to maintain quality."
"As far as my company is concerned, the use of robots in our facilities has just begun. We are expecting further technologies based on OMRON's sensor and control technologies to further improve our production facilities. It is great that OMRON's personnel are willing to come out to a real production site to work together with us to further manufacturing technology."
With the arrival of IoT, the role of electronics manufacturing companies has become even more important. To maintain the worldwide trust of the phrase "Made in Japan" OMRON is advocating "new cooperation between people and machines", as a way to bring manufacturing in the county forward into the future.
Mobile robot concept movie