-People with disabilities should not be treated in a special way. For the past three decades, the company has proven that they can find the joy of working and contribute to a better society-
OMRON KYOTO TAIYO, a special subsidiary of OMRON Corporation, celebrated its 30th foundation anniversary on April 1, 2016, which was attended by over 220 people including guests such as Keiji Yamada, Governor of Kyoto, and Daisaku Kadokawa, Mayor of Kyoto.
The foundation of OMRON KYOTO TAIYO can be traced back to 1972.
At that time, Dr. Yutaka Nakamura, who had opened a social welfare organization "Japan Sun Industries", called on more than 300 companies saying, "Even if people with disabilities receive job training at vocational aid centers, their reintegration into society is very difficult. I want to cooperate with companies and use our own strength to build a factory". The only person who responded to the call was Kazuma Tateishi, the founder of OMRON Corporation.
"Because Japan Sun Industries never treats disabled people in a special way, the next company can treat them normally" said Dr. Yutaka Nakamura. This idea resonated with Kazuma Tateishi and he imposed the exact same conditions as other factories for outsourcing to OMRON TAIYO.
In this way, a welfare factory "OMRON TAIYO" was established for the disabled in Beppu, Oita Prefecture, as the first effort of the social welfare organization "Japan Sun Industries" in Japan.
With pressure to avoid failure as a pioneer in an unprecedented factory, the employees have worked hard by devising inventive ways and accomplished a great achievement of producing a surplus from the first year after the establishment to prove that they can contribute to society.
The employees have proved to society on their own that a welfare factory designed for people with disabilities can make good business sense and it can lead to the independence of the disabled.
OMRON KYOTO TAIYO was established in 1986 triggered by the call, "Employ disabled people in Kyoto", by the former Governor Hayashida, then Governor of Kyoto. Currently about 140 people with disabilities including the severely disabled are involved in manufacturing sites depending on their special ability.
The factory acquired the world-class quality system (ISO9001) like other OMRON factories did. They have made profit by manufacturing products that are distributed throughout the world in the same way other OMRON products do.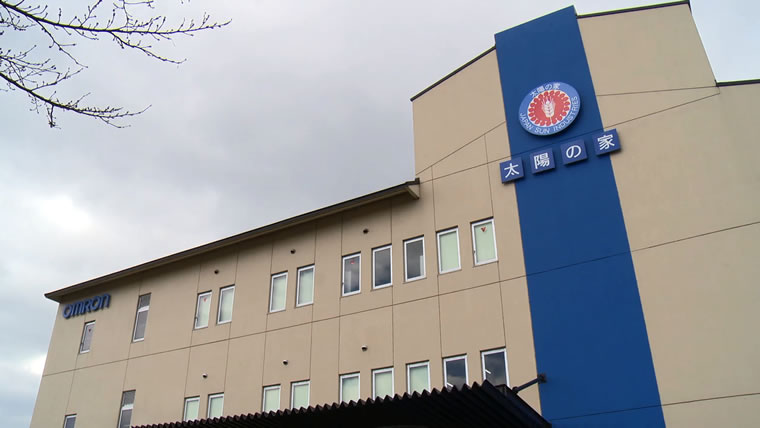 President Miyaji said,
"I am pleased that the factory can make each disabled person feel the joy of working and contributing to society by using his/her ability through jig production and site improvement activities according to their disability levels." He also said OMRON KYOTO TAIYO has three missions:
"The first mission is to create job opportunities for people with not only mild but also severe disabilities through OMRON's production technology and inventiveness of all staff.
The second is to secure revenue by making products that satisfy our customers as a company.
The third is to widely share our know-how with society and contribute to the creation of society where people with disabilities can live comfortably.
We all continuously try to work as one to be a company which is required by society and the future."
Since its establishment three decades ago, this sprit has been continuously passed down to the employees and they continue to be inventive.
This activity has spread overseas and deeply impressed PT OMRON MANUFACTURING OF INDONESIA (OMI), which has developed and implemented a program to provide training and employment as a package to people with disabilities. It also carried out an activity to widely spread this program to other companies in Indonesia.
As a result, five companies have introduced a similar type of program. These efforts have earned OMI the best practice award for employing people with disabilities from the International Labour Organization (ILO) as well as kudos from the Indonesian government, which has gained sympathy from others.
"At work for a better life, a better world for all." This is OMRON's motto that was established in 1959.
This motto is based on the corporate social responsibility for "working for the benefit of society" and the aim to "contribute to the development of a society through corporate activities."
OMRON will continuously contribute to a better and affluent society where people shine by working on various social contribution activities in locations throughout the world.