OMRON launches high-precision human detecting sensor that detects number and location of humans

-Simultaneously improving comfort, productivity and energy efficiency-
December 5, 2016
OMRON Corporation (Headquarters: Shimogyo-ku, Kyoto; CEO: Yoshihito Yamada) announced that it will release the Human Detecting Sensor (Image Sensing Type) HVC-F, designed for building automation purposes and capable of detecting the number and position of humans with high precision, on the Japanese market in April 2017.
The ceiling-mounted HVC-F utilizes an internal imaging sensor to detect the number and positions of humans within a 7.2m x 7.2m area. The sensor is capable of functioning at a maximum height of 5m, meaning it is not only suited for use in office spaces and meeting rooms, but also in areas with high ceilings such as entrance and elevator halls. It is also possible to install multiple HVC-F units to simultaneously monitor a larger area.The sensor is not capable of identifying or recognizing individuals.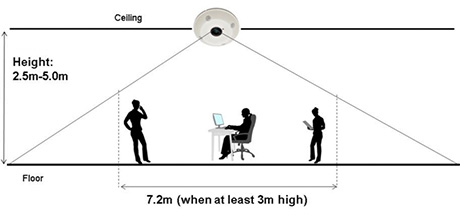 Application examples:
Improving energy efficiency and comfort with more precise air conditioning and lighting control
Usually, automatic lighting is controlled with infrared sensors that detect humans and switch lights on or off accordingly. However, with more refined information regarding how many people are present and where they are provided by the HVC-F it is possible control lighting with increased sophistication and improve energy efficiency. Similar results can be achieved through precise air conditioning control by replacing the traditional indoor thermostat with the HVC-F.
New services to improve efficiency of office space usage
The HVC-F can also be utilized for new services that assist companies sharing a building improve their office space usage efficiency, for instance by connecting the sensor to the meeting room reservation system and monitoring the actual usage and number of people present.
Improving productivity in manufacturing facilities
The HVC-F can contribute towards improving productivity by providing visualized data of the numbers and positions of workers, which can then be analyzed to optimize production lines and device layouts.
OMRON is currently engaged in verification tests with a number of companies to verify the effectiveness of the HVC-F and to propose ways of utilizing the sensor to improve comfort and productivity.
In the Basic Energy Plan established in April 2014, the Japanese government set goals for the implementation Zero Energy Buildings (ZEB) and improving energy efficiency in buildings including offices. With the HVC-F and a number of other technologies capable of sensing humans and the surroundings, OMRON is contributing towards the creation of smart buildings that are both comfortable and energy efficient, as well as the development of highly productive IoT age smart factories.
OMRON will display the HVC-F sensor at the Smart Building EXPO held at Tokyo Big Sight from December 14 (Wed.) to 16 (Fri.)
Key specifications
| Item | Specification |
| --- | --- |
| Detection area | 7.2m x 7.2m (if installed 3m high or above) |
| Installation height | 2.5m - 5m |
| Output | Number of persons, positional coordinates |
| Interface | PoE (Power over Ethernet) |
| Power consumption | Operation: 4W Standby: 2W |
| Size | Diameter: 100mm Height: 140mm |
About OMRON Corporation
OMRON Corporation is a global leader in the field of automation based on its core technology of sensing and control. OMRON's business fields cover a broad spectrum, ranging from industrial automation and electronic components to automotive electronic components, social infrastructure systems, healthcare, and environmental solutions. Established in 1933, OMRON has over 38,000 employees worldwide, working to provide products and services in more than 110 countries and regions. In the field of industrial automation, OMRON supports manufacturing innovation by providing advanced automation technologies and products, as well as through extensive customer support, in order to help create a better society. For more information, visit OMRON's website at: https://www.omron.com/
Contact (media):

Corporate Communications Department
OMRON Corporation
TEL: +81-75-344-7175

Contact (product information):

Sales Management Department, Marketing Division
Electronic and Mechanical Components Business,
OMRON Corporation
TEL: +81-3-6718-3667

Adobe Acrobat Reader is free software that lets you view and print Adobe Portable Document Format (PDF) files.