Awarded as the second place of "CEATEC AWARD 2016"
World's first "Driver Concentration Sensing Technology"
October 6, 2016
"Driver concentration sensing technology" from OMRON Corporation (Head office: Shimogyo-ku, Kyoto, Japan, President and CEO: Yoshihito Yamada) was awarded "CEATEC AWARD 2016" Second Place in the Innovation Connecting Towns and Society Category at CPS/IoT EXHIBITION "CEATEC JAPAN 2016".
The following are comments by the CEATEC AWARD 2016 judging committee.
This technology is extremely useful for monitoring the concentration level of a driver.
While the development of automated driving proceeds, driver monitoring helps clarify the division of roles between man and machine, and we can expect an even further emphasis on safety verification in the future.
Quick application is expected in this field to prevent serious accidents before they happen, and so I positively evaluated the point that the technology will be commercialized relatively quickly.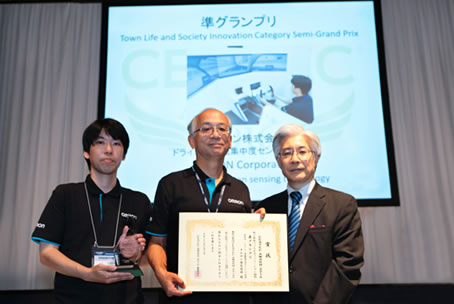 Award Ceremony of "CEATEC AWARD 2016"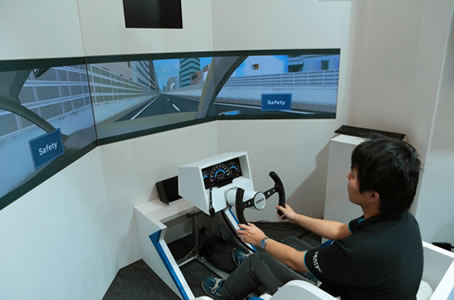 Demonstration of "Driver Concentration Sensing Technology"
"Driver Concentration Sensing Technology"
By combining leading-edge "time-series deep learning" AI technology with OMRON's proprietary high accuracy image sensing technology, this world's first technology "driver concentration sensing" classifies a driver's current suitability to drive into levels and makes a determination based on video shot with a camera. By processing two kinds of images – "localized facial images" and "comprehensive motion images" – this technology uses a single compact, palm-sized camera to detect the driver's various conditions, such as dozing off, taking his/her eyes off the road, using a smartphone, or reading. During manual driving, the system can evaluate various driver behaviors and conditions as a risk level in terms "how safely is the driver capable of driving?", and during automated driving, as a driving handover level evaluated in terms of "how much time would be needed to resume driving?" This technology allows a car to be controlled according to the condition of the driver, and supports safe driving by the driver such as safely switching between automated driving and manual driving and safely stopping the car when something goes wrong with the driver, thereby allowing auto makers to improve safety OMRON aims to have an onboard sensor featuring this technology adopted for such applications as automated driving vehicle models to be released from 2019 to 2020.
In the future, OMRON aims for the early commercialization of a system combining multiple sensing technologies, including "driver concentration sensing technology" and "Non-contact Pulse Sensor", that can reliably detect abnormalities and assess the risk of abnormalities before they occur. OMRON 's goal is to be the first to create an onboard healthcare system capable of preventing accidents caused by factors relatable to the driver's health, and to contribute towards a safe and comfortable motorized society.
"CEATEC AWARD 2016" Town and Society Innovation Category Second Place
"CEATEC AWARD 2016" is an award where technologies, products, and services on display at "CEATEC JAPAN 2016" and applied for in advance by exhibitors are judged, voted for and given awards based on evaluation by the "CEATEC AWARD 2016 judging committee" for having a highly superior level of innovation from the standpoints of science, technology, future applicability, and marketability.
The "Innovations Connected to the Town and Society Category" is a "CEATEC AWARD 2016" prize category for innovative products, services, technologies and concepts that contribute to making towns and society more relaxed, safer, easier and better, and more functional by solving problems through the high level utilization of networks, including mobility, logistics, commercial businesses, public systems, energy and urban environment management, and new business styles. (Details:http://www.ceatec.com/ja/award/award01.html) 
For product details, please visit:
https://www.omron.com/innovation/mobility.html
About OMRON Corporation
OMRON Corporation is a leading industrial automation company that leverages its core sensing & control technologies to expand into businesses, such as control components, electronic components, automotive electronic components, social infrastructure systems, healthcare, and the environment. OMRON was established in 1933, and has around 38,000 global employees, offering products and services in over 110 nations and regions. For more detail, refer to https://www.omron.com/
Contact (media):

Corporate Communications Department
OMRON Corporation
TEL: +81-75-344-7175

Adobe Acrobat Reader is free software that lets you view and print Adobe Portable Document Format (PDF) files.