We make the near future happen
About Us
About Us

We make the near future happen

Backcasting from the near future design by SINIC, a technology management style inherited in OMRON Group from the time of the founder Kazuma Tateishi.

For that OMRON SINIC X (OSX) was born in 2018 at Hongo, Tokyo, with the mission of bringing in the innovative technologies needed by society in the near future and creating a concrete architecture for their realization.
At OSX, we will promptly grasp the signs of transitions in the world and social issues, and create essential research questions and attractive research issues that will be the bottleneck of the solution. We will proceed with research based on the belief that by sharing research issues rooted in social issues in the community consists of academia and industry, we can achieve a great impact on moving society and innovating people's lifestyles.
※ Click to enlarge image
Message
Motivation at OSX Launch
OSX was originally being prepared with the idea of ​​"establishing an AI research base." However, as the discussions were repeated within OMRON, the concept was brushed up, and the concept developed into a research base for designing the near future, envisioning the technologies necessary for that purpose, and creating core innovative technologies. Originally, OMRON has frontieered numerous innovations such as signal control systems and automatic ticket gates, leading the world by new solutions, based on the theory of future prediction (SINIC) established by the founder. The founder called this "creation of social needs" and it is still rooted in OMRON's corporate philosophy. The organization OSX was founded with the desire to update the future prediction method called SINIC to suit the new era and make it a unique base for creating social needs based on innovative technology.
However, it is extremely difficult for OMRON members, including myself, to anticipate technological evolution in the decades ahead, which is discontinuous and increasing in complexity, and to design the near future. Therefore, I came to have the desire to design OSX as "Dejima", the place for open innovation and the near future of innovation technology starting point while inviting excellent researchers and experts from domestic and interenational community.
What OSX is aiming for in the future
"Near-future design" is not just dreaming of the future. OSX shows both a concrete picture of the future and the path towards its realization. Currently, the intersection of AI, robotics, sensing, etc. is at the center of attention to, but in SINIC theory, in order to realize the "integration of humans and machines", the technical areas that need to be deepened are expanding steadily, such as communication between humans and machines, machine embodiments and the handling of knowledge and information flow. I would like to deepen discussions with people outside the company rather than keeping it closed inside the company.
In terms of human resources, we would like to continue to expand diversity more than ever. Two years after its establishment, researchers from more than 10 countries have already come to OSX in the form of internships and have worked hard together. In the future, we plan to invite even more diverse human resources from all over the world to create seeds for innovative technologies.
CEO
Vision
Company philosophy
We are committed to putting the OMRON Group's corporate philosophy into practice in modern ways and are tackling new challenges every day. There are many points that small and inexperienced companies cannot reach, but steadily continuing with each and every step is our challenge.
In a culture that values freedom and diversity, engineers and researchers with momentum and strong skills understand each other's strengths and weaknesses, utilize and complement each other, take on challenges from the future, and enhance our presence. We aim to be a platform that raises spirits, creates businesses, and grows individuals.
Research philosophy
| | |
| --- | --- |
| Future-oriented | Each of our diverse research topics aims to be one piece of the puzzle to create the society of the future. |
| Social-issue-oriented | We will consider what the near future should be, the major social issues it is rooted in, and determine the obstacles in its way. |
| Impact-oriented | Then, among these obstacles we identify the underlying, essential technical issues that have wide-ranging influence, and consider how to solve them. In this way, we aim to achieve both social and research impact. |
| Open-minded | To find an optimal solution, often it is not a good idea to keep a problem to yourself. We often connect with collaborators who work on similar problems and solve them with the power of the community. |
| Trade-on minded | We aim to improve the technology by raising the trade-off curve one step by balancing the two conflicting properties, rather than adjusting the trade-off. |
| Interdisciplinary field emphasis | We aim at innovations by integrating interdisciplinary fields. |
Research domains
At OMRON, in order to deepen the cooperation and harmony between humans and machines, we are conducting research on the functions of human intelligence, perception, interpretation, movement, behavior generation and environment-human interaction.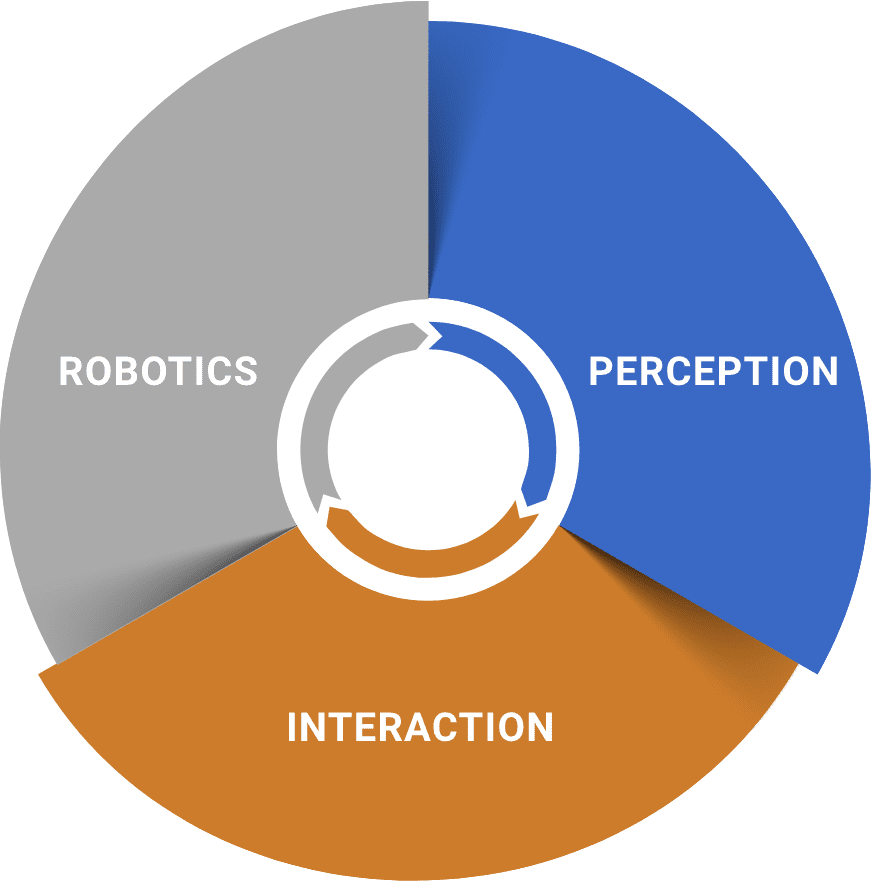 PERCEPTION

In order for machines to understand complex phenomena in the real world, they need to form abstract concepts based on multimodal and multidimensional sensor information. In addition, we are also researching machines that consider how to realize advanced judgment and control, while interacting and bargaining with the outside world based on conceptualized information in collaboration with other groups.

INTERACTION

We are researching machines that facilitate the interactions between people, people and the environment, and people and machines. Our research projects use cutting-edge AI technology to solve relevant real-world tasks, such as matching people with needs with those who provide solutions, optimizing teams and groups, translating data and meaning, and teaching concepts from people to machines.

ROBOTICS

For robots to perform the work done by humans, robots need to learn both the abstract procedure and the "skill" to perform it. Mobile manipulation has also become a necessity, with robot arms on mobile platforms performing human-like work while moving. For this reason, we are conducting research on simple teaching of procedures and skills, flexible state control (like a person who learns from the environment by seeing and touching), and movement optimization, while building an open demonstration system in collaboration with other research groups.
COMPANY
Corporate Information

Company name
OMRON SINIC X Corporation
Address
Nagase Hongo Building 3F 5-24-5 Hongo, Bunkyo-ku Tokyo-to, Japan 113-0033
President and CEO
Masaki Suwa
Incorporated
Feb 1,2018
Capital
JPY 1.3 billion
Business Overview
Near-future designs and innovation realization
Officer
Director Kiichiro Miyata
Director Masaki Teshigawara
Audit & Supervisory
Board Member
Nobuyuki Nakatani