- Ideal for monitoring power supplies for devices and machines -

OMRON releases Monitoring Relay K8AK / K8DS series with enhanced resistance to inverter noise

June 27, 2013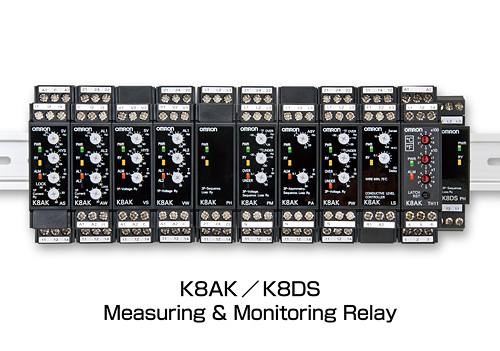 Kyoto, Japan -- OMRON Corporation (TSE: 6645, ADR: OMRNY) announces the release on July 1, 2013 of the following monitoring relays.
New Monitoring relay K8AK / K8DS series
The K8AK / K8DS series power supply monitoring relays detect overcurrent/overvoltage, undercurrent/undervoltage, phase-loss*1, phase-sequence*2, and voltage asymmetry*3.
More expansion of business overseas in the manufacturing industry centering on emerging countries and stronger needs for factory automation in emerging markets demand responses to the following problems caused by the power supply situation of devices and machines.
Malfunction of devices and machines caused by voltage fluctuation due to unstable power conditions.
Motor error rotation caused by incorrect wiring of power cable or motor burnout caused by loosened wiring (disconnection) of power supply terminal part, which comes from variation of proficiency for maintenance and check.
Heating or troubles generated by inverter noise from devices and machines when noise filter is not equipped with the inverters.
The newly released monitoring relays K8AK / K8DS series enhanced resistance to inverter noise compared to our previous models. They suppress heating from the monitoring relays themselves generated by inverter noise and monitor power supply troubles even if the noise filter is not installed in the device or machine. In particular, to prevent troubles including malfunction or motor burnout coming from power supply error, the K8AK/K8DS series detect power supply error (voltage or current), phase-loss, and phase-sequence. This detection contributes to shortening recovery work and protecting the device and machine quickly. The K8AK/K8DS series bodies are slim 17.5mm/22.5mm wide and DIN Track mounting type, which conform to the global standard DIN48330. These specifications contribute to downsizing devices and reducing the control panel space.
*1. Phase-loss: The state in which voltage is not supplied to one or more phases of three-phase power lines because of disconnection of power line, loosened terminal screw, or contact failure of switches.
*2. Phase-sequence: The state in which phase sequence of three-phase power line is not positive. For example, a motor rotates backward when the phase sequence is reversed.
*3: Voltage asymmetry: The state in which power supply voltage of each three-phase power line is not equal because of phase-loss or other reasons.
Features
Wide range as a power supply monitoring relay for devices and machines (voltage asymmetry, phase-loss, phase-sequence, current, and temperature).
It supports many power supply voltage and safety standards of the world (UL, CSA, CE, CCC, KC)
17.5mm/22.5mm slim bodies conforming to DIN 43880 contribute to save space in control panels.
Resistance to inverter noise is enhanced by redesign, suppressing heating generated by inverter noise when noise filter is not equipped for devises or machines.
The K8AK/K8DS can be shipped from the OMRON factory with requested set values.


* There are some conditions.
Specifications
Product name
Model
Normal input
Supply voltage
Output relay
1-phase Current Relay
K8AK-AS1
2 to 20m A AC/DC
10 to 100m A AC/DC
50 to 500m A AC/DC
24VDC
One SPDT relay
24VAC
100/115VAC
200/230VAC
K8AK-AS2
0.1 to 1 A AC/DC
0.5 to 5 A AC/DC
0.8 to 8 A AC/DC
24VDC
24VAC
100/115VAC
200/230VAC
K8AK-AS3
10 to 100 A AC
20 to 200 A AC
24VDC
24VAC
100/115VAC
200/230VAC
K8AK-AW1
2 to 20m A AC/DC
10 to 100m A AC/DC
50 to 500m A AC/DC
24VDC
Two SPDT relay
24VAC
100/115VAC
200/230VAC
K8AK-AW2
0.1 to 1 A AC/DC
0.5 to 5 A AC/DC
0.8 to 8 A AC/DC
24VDC
24VAC
100/115VAC
200/230VAC
K8AK-AW3
10 to 100 A AC
20 to 200 A AC
24VDC
24VAC
100/115VAC
200/230VAC
1-Phase Voltage Relay
K8AK-VS1
6 to 60m V AC/DC
10 to 100m V AC/DC
30 to 300m V AC/DC
24VDC
One SPDT relay
24VAC
100/115VAC
200/230VAC
K8AK-VS2
1 to 10 V AC/DC
3 to 30 V AC/DC
15 to 150 V AC/DC
24VDC
24VAC
100/115VAC
200/230VAC
K8AK-VS3
20 to 200 V AC/DC
30 to 300 V AC/DC
60 to 600 V AC/DC
24VDC
24VAC
100/115VAC
200/230VAC
K8AK-VW1
6 to 60m V AC/DC
10 to 100m V AC/DC
30 to 300m V AC/DC
24VDC
Two SPDT relay
24VAC
100/115VAC
200/230VAC
K8AK-VW2
1 to 10 V AC/DC
3 to 30 V AC/DC
15 to 150 V AC/DC
24VDC
24VAC
100/115VAC
200/230VAC
K8AK-VW3
20 to 200 V AC/DC
30 to 300 V AC/DC
60 to 600 V AC/DC
24VDC
24VAC
100/115VAC
200/230VAC
Phase-sequence,
Phase-loss Relay
K8AK-PH1
200 to 500 V AC
Same as the input voltage
Two SPDT relay
3-Phase Voltage,
Phase-sequence,
Phase-loss Relay
K8AK-PM1
200 ,220, 230, 240 VAC
Two SPDT relay
K8AK-PM2
380, 400, 415 ,480 VAC
3-Phase Asymmetry,
Phase-sequence,
Phase-loss Rely
K8AK-PA1
200, 220, 230, 240 VAC
One SPDT relay
K8AK-PA2
380, 400, 415, 480 VAC
3-Phase Voltage Relay
K8AK-PW1
200, 220, 230, 240 VAC
Two SPDT relay
K8AK-PW2
380, 400, 415, 480 VAC
Temperature Monitoring Relay
K8AK-TH11S
Thermocouple/Pt100 (0 to 399°C/F)
100 to 240VAC
One SPDT relay
K8AK-TH12S
Thermocouple (setting unit of 10°C/F)
100 to 240VAC
K8AK-TH11S
Thermocouple /Pt100 (0 to 399°C/F)
24VAC/DC
K8AK-TH12S
Thermocouple (setting unit of 10°C/F)
24VDC/AC
Phase-sequence,
Phase-loss Relay
K8DS-PH1
200 to 500 VAC
Same as the input voltage
One SPDT relay
About OMRON
Headquartered in Kyoto, Japan, OMRON Corporation is a global leader in the field of automation. Established in 1933, OMRON has more than 35,000 employees in over 35 countries working to provide products and services to customers in a variety of fields including industrial automation, electronic components, social systems, healthcare, and the environment. The company has regional head offices in Singapore (Asia Pacific), Beijing (Greater China), Amsterdam (Europe, Africa, and the Middle East), Chicago (the Americas), Gurgaon (India), and Sao Paulo (Brazil).
For more information, visit OMRON's website at https://www.omron.com/
For more press information, please contact:

Hidenobu Eto
Industrial Components Div. HQ,
Industrial Automation Company
OMRON Corporation
Tel: +81-75-344-7231