OMRON to Introduce ZW-5000 Confocal Fiber Displacement Sensor
With 5X1 measurement accuracy when compared to a conventional model
April 7, 2017
OMRON Corporation (TSE: 6645, ADR: OMRNY) will introduce on April 3, 2017 the new ZX-5000 small laser spot type Confocal Fiber Displacement Sensor. By incorporating a sensor head that produces a laser spot size 1/5 that of a conventional model, the ZX-5000 non-contact displacement sensor can perform high-precision gap, position and profile measurement of micro components. OMRON's proprietary "White Light Confocal Principle2" makes it possible to continuously measure any object at the micron level, regardless of material and shape, while moving the sensor head. This contributes to a high-precision quality inspection while reducing inspection time.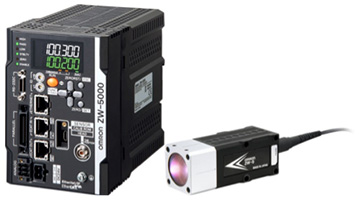 In recent years, digital devices such as semiconductors and flat panel displays have become thinner and more delicate. Additionally, the need to measure the height and profile of micro components, as well as gaps between components, has increased. The laser spot emitted by a conventional displacement sensor was wider than the object being measured. Therefore, accurate measurement of micro components hindered quality inspections.
To overcome this obstacle, the ZW-5000 produces a laser spot size of 10 μm or less3 utilizing OMRON's own optical design technology. The White Light Confocal Principle allows us to perform high-speed, accurate quality inspections in applications where precise position, profile and gap measurements are required. For example, the ZW-5000 is ideal for measuring the gap between components on an IC chip.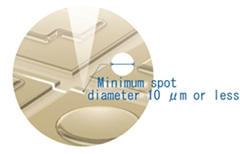 Application: Gap measurement of IC chip
1 The laser spot size was reduced to 1/5 that of our conventional model, allowing fine pitch profiling while moving the sensor head.
2 White light confocal principle is a mechanism to measure the height of an object based upon the color of reflective light received by the sensor. White light emitted from the sensor is separated by the color, or wavelength. Each wavelength converges on a different vertical position so that only the light in focus is received by the sensor. A conventional sensor, using the triangulation principle, receives multiple reflections from a rough surface and therefore is not well suited to measuring objects while moving the sensor head. By contrast, a sensor with the white light confocal principle is not subject to multiple reflections so an accurate measurement is possible even while moving along a course surface.
3 A spot diameter of 10 μm or less applies to the ZW-S5010 only.
Key features
Small spot diameter of 10 μm or less enables accurate measurement of micro components

Ever-smaller components can be faithfully profiled.
Application: Film lamination position inspection

White Light Confocal Principle delivers a continuous measurement of any material, including curved surfaces
Conventional displacement sensors have difficulty measuring a target object while moving. The height of the object is measured through an averaging process, which results in a poor reproduction of the profile. White Light Confocal Principle enables high-speed continuous measurement. It is possible to measure any material, in any shape at high sampling rate, even while moving the sensor head. No averaging process is used.

Main specifications
ZW-S5010
ZW-S5020
ZW-S5030
Measuring Range
10 ± 0.5 mm
20 ± 1 mm
30 ± 2 mm
Spot Diameter
φ 9 μm
φ 13 μm
φ 18 μm
Static Resolution
0.004 μm
0.008 μm
0.016 μm
Linearity
± 0.45 μm
± 0.9 μm
± 2.0 μm
Sampling Period
Max. 80 μs
External Dimensions
30 x 30 x 76.25 mm
Weight
Approx. 180 g
About OMRON Corporation
OMRON Corporation is a global leader in the field of automation based on its core technology of sensing and control. OMRON's business fields cover a broad spectrum, ranging from industrial automation and electronic components to automotive electronic components, social infrastructure systems, healthcare, and environmental solutions. Established in 1933, OMRON has over 38,000 employees worldwide, working to provide products and services in more than 110 countries and regions. In the field of industrial automation, OMRON supports manufacturing innovation by providing advanced automation technologies and products, as well as through extensive customer support, in order to help create a better society. For more information, visit OMRON's website at: http://www.omron.com/
Contact:

For media,
Corporate Communications Department,
OMRON Corporation
Tel: +81-75-344-7175
For our business / inquiry from customers,
Sensor Division, Product Business Division HQ,
Industrial Automation Company,
OMRON Corporation
Tel: +81-75-344-7022

Adobe Acrobat Reader is free software that lets you view and print Adobe Portable Document Format (PDF) files.